PLUNGE RECORDS...
Wed, Apr. 9 2008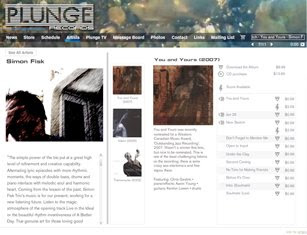 The site is live and the store is open for business - check it out here.
We ran into a snag with the e-commerce due to a bug in Nova's code but luckily, they found a work-around so everyone is happy.Another cool Canadian, Simon Fisk has quite a few tricks up his sleeve, including some live streaming events on the horizon so keep an eye out.We'll wrap in a few days, once we get him his custom MySpace and FaceBook plugins so he can feed right from his site.
Can always count on Simon for a choice quote:
"Once again Artgig rules the website world! And I am not buttering you guys up, you are truly a godsend to the world of websites and ecommerce!"