Introducing...Artgig Apps
Wed, Apr. 20 2011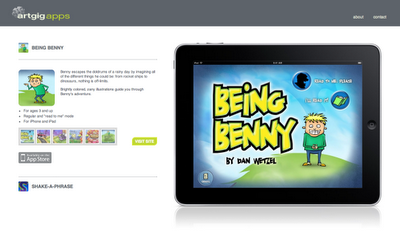 Do you smell it?
Exhale...
Ah yes, it's the double pleasure of new logo and new website smell.
Allow me to introduce you to our new website, artgigapps.com.
Artgig Apps represents Artgig's commitment to mobile app development and we're really excited by the possibilities for custom development and expanding what we can offer our clients.
The site launches with the recent release of "Being Benny," a children's book app, and "Shake-a-Phrase," a fun language app for kids that is presently in Beta testing.
Coming from a background of educational game development, stretching way back to the good old days of Sunburst Technology, the educational kids apps are obviously a good fit for us.
And most importantly, we like doing it.
And if you're going to bust your ass doing something, it's really best if you like it.
So stay tuned - we've got plenty more up our sleeves and we're feeling inspired to do all kinds of cool things.
Oh, and please take a moment to check out Artgig Apps on Twitter and Facebook – that's where we'll post reviews, news and other insights into the fast paced, high octane world of app development.
Thanks!
And enjoy.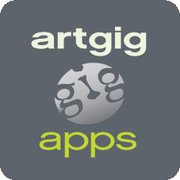 Check out artgigapps.com

@artgigapps on Twitter
src="/sites/default/files/blog_images/icon_facebook.png" />
Facebook, if that's your thing