Ethos CRS: e-Learning Down Under
Wed, Feb. 10 2010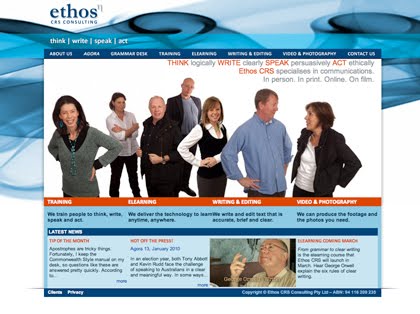 "Chas Savage," sounds like he could be a rock star or a superhero, and he may very well be that in the business of training Australian professionals to do a better job of speaking, writing and presenting in whatever business it is they do.
This time last year, Chas was running his business, Ethos CRS, from his home in Canberra and barely had a website of his own.
Today he has 20 professionals working for him in an expanding office and he's attracting the attention of top government agencies with his aim to do big things for Australia.
One of those big things is the launch of a complete e-Learning program, "From Grammar to Clear Writing," slated to go live this spring.
This, is where Ethos and Artgig intersect.
We've become perfect partners, a super duo poised to deliver on-demand learning in a series of interactive lessons to businesses and agencies who recognize good training is good business.
I like Chas, and it goes beyond my inherent soft spot for all things Aussie. Chas is smart and sharp and honest and he does what he says he's going to do and that is admirable.
And this is exactly what he said he was going to do when I met him a year ago on a Skype video call, arranged by Lis.
He just needed some help putting the "e" part in e-Learning.
So I showed him CMEpilot, our mature, proven e-Learning platform developed for continuing medical education training and certification, here in the States.
We'd always envisioned the platform as something that could be re-purposed pretty easily for other industries and to be honest, it was begging for a refresh.
Chas took one look at it and he was sold.
Of course, he has his own ideas about the form and function of his training program and that's where we begin making beautiful music together.
For starters, we threw out the standard Flash slides and talking head modules and built some really slick custom interactive engines - all in JavaScript.
And, knowing Ethos' attention to detail, we designed their course to be almost entirely content-managed so they can go in and edit the front-end to their hearts' content.
And the cherry on top? The admin dashboard allows Ethos to access all the stats involved by user and organization--who goes to the e-Learning site, certifications and user tests, and e-commerce transactions.
It's a complete system, and it works. With all the right technology behind him, Chas and his team are sure to be the U2 of business and government training in no time.
Ethos CRS Website