Open Your Goodie Bag - We Got Treats!
Thu, Nov. 1 2012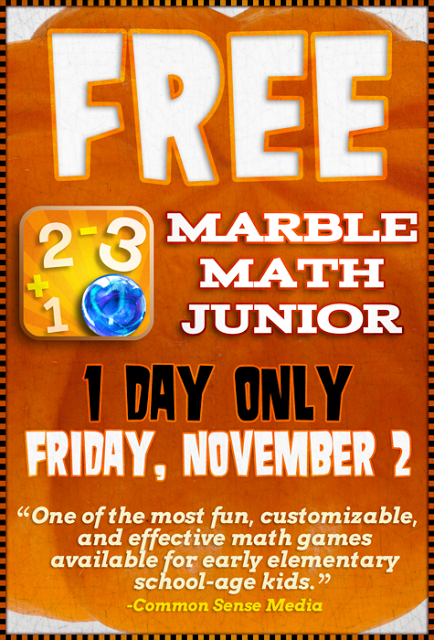 I'm sorry, were you under the impression that Halloween was over?
Not while we've still got treats!
We can't wait to share our new Marble Math and Marble Math Junior updates with you. Both apps now feature international currency options so you can practice counting with Australian, Canadian, Euro, or British money in addition to US coins and bills. You can download the update today from the App Store and it's optimized for the iPhone 5.
And if you don't have Marble Math Junior ($1.99), get your goodie bag ready, because you can download the app Common Sense Media calls
"...one of the most fun, customizable, and effective math games available for early elementary school-age kids" 
for Free this Friday, November 2nd!
Like I said, we're all about treats.
And once you've downloaded Marble Math Junior, join the other ghosts and goblins at the Moms With Apps App Friday Facebook Party where you can mingle with family friendly developers and get more great apps on sale (costumes optional).
Perhaps you've heard of the rare double rainbow phenomenon.Well, today you've witnessed something even more remarkable – the double blog post. />Go on, run off and tell your friends.
And have a happy and safe Halloween!