Interactive Moments...
Mon, May. 5 2008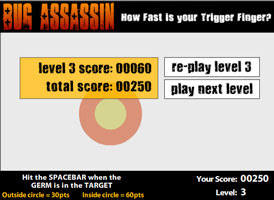 "Interactive moments" – it's not a soap opera, but the latest CMEpilot promotion aimed at stirring the creative pot to get educators thinking about how they can use interactivity, like games, to engage learners.
We created "Bug Assassin," a simple shooter game, where users must rely on their lightning quick reflexes to zap the moving germs as they pass through a target. As the user progresses, the level of play becomes increasingly difficult, some might say ridiculously so, but it's all in the spirit of good fun and learning.
Simple games, like Bug Assassin, incorporated into educational activities underlines key concepts, reinforces learning and keeps your audience interested. The content is entirely up to you – leave it to us to make it fun.
Play Bug Assassin